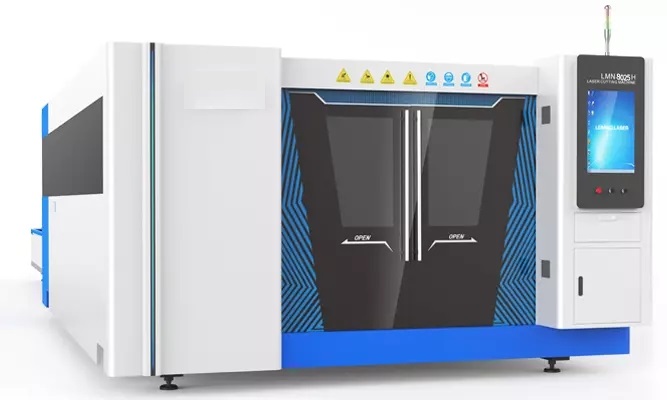 Introduction:
High power sheet metal fiber laser cutting machine LMN3015H is equiped with full protection cover and exchange working table,can cut up to 50mm steel. LMN3015H fiber laser cutter is used for cutting think metal plates ,equipped with fiber laser, the laser power is from 1500w to 12000w,for more details ,just send e-mail to us.
Gantry Structure
Automatic positioning, timely dynamic response, high stability
Dual driver, dual rack, high speed
Auto Oil-filling
Keep the supply of new oil
Simple and flexible, avoid oil cut-off
Dual driver, dual rack, high speed
Servo Control
Keep the distance between the laser head and plate
Stop working immediately when hitting the plate

Technical Parameter:
Model

LMN3015H/LMN4020H/LMN6020H/LMN6025H/LMN8025H

Working area

3000mm(L) * 1500mm (W)
4000mm(L) * 2000mm (W)
6000mm(L) * 2000mm (W)
6000mm(L) * 2500mm (W)
8000mm(L) * 2500mm (W)

Fiber Laser Power

1500W/2000W/3000W/4000W/6000W/8000W/12000W

X axis

3000/4000/6000/8000mm

Y axis

1500/2000/2500mm

Z axis

300mm

Maximum velocity of movement

140m/min

X/Y axis position accuracy

±0.03mm

X/Y axis repeat positioning accuracy

±0.02mm

The exact process range can be designed and manufactured according to customer's requirements.