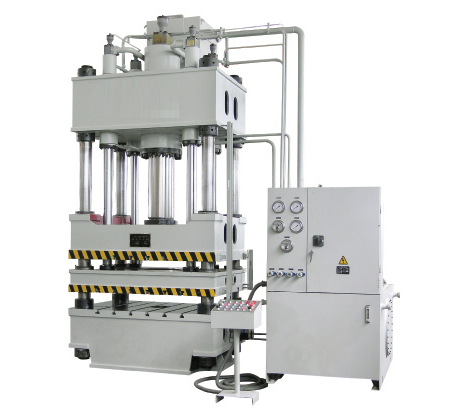 Introduction:
The hydraulic press of this series is the double-movement hydraulic press for sheet metal drawing. It is
particularly fit for drawing, forming, flanging, bending and stamping of sheet metals for making parts and
components. It is also fit for stamping process and pressing process.
The hydraulic system has a two-way cartridge inserted valve; the electrical system has PLC for control. Thus,
the machine can be conveniently operated.
The hydraulic press is characterized with high speed under no-load condition, high efficiency in energy utilization and low power consumption with the blank holder pressure and drawing force adjustable. It is an ideal equipment for the forming of sheet metal.
Technical Parameter:
 

YL28-100/150

YL28-160/250

YL28-200/315

YF28-400/650

YL28-500/820

YL28-630/1030

Capacity

kN

1500

2500

3150

6300

8200

10300

Drawing Slide Drawing Force

kN

1000

1600

2000

4000

5000

6300

Pressing Slide Pressing Force

kN

125×4=500

225×4=900

288×4=1152

630×4=2520

800×4=3200

1000×4=4000

Ejecting Force

kN

190

280

400

630

1000

1250

Drawing Slide Return Force

kN

165

210

240

500

900

850

Pressing Slide Return Force

kN

29×4=116

41×4=164

66×4=264

134×4=536

150×4=600

240×4=960

Max. Hydraulic Pressure

MPa

25

25

25

25

25

25

Pressing Slide Center Hole

mm

φ350

φ450

φ550

800×800

1400×800

1600×1000

Max. Drawing Slide Shut Height

mm

900

1100

1250

1500

1600

1800

Max. Pressing Slide Shut Height

mm

650

800

900

1050

1100

1250

Max. Drawing Slide Stroke

mm

500

560

710

800

800

900

Max. Pressing Slide Stroke

mm

500

560

710

800

800

900

Ejecting Stroke

mm

200

200

250

350

350

400

Drawing Slide

LR

mm

800

1120

1200

1600

2200

2500

FB

mm

800

1000

1200

1600

1600

1800

Pressing Slide

LR

mm

800

1120

1200

1600

2200

2500

FB

mm

800

1000

1200

1600

1600

1800

Drawing Slide Speed

Idle Stroke

mm/s

80

100

120

120

130

150

Pressing

mm/s

8-20

8-20

8-20

5-12

7-15

7-15

Return

mm/s

120

140

150

85

80

105

Pressing Slide Speed

Idle Stroke

mm/s

70

80

90

100

110

130

Pressing

mm/s

16-40

15-35

15-35

8-20

9-23

9-23

Return

mm/s

170

170

135

90

120

95

Bolster

LR

mm

800

1120

1200

1600

2200

2500

FB

mm

800

1000

1200

1600

1600

1800

Outline Size

LR

mm

2700

3200

3600

4100

4800

5300

FB

mm

1400

1500

1700

1800

2000

2200

Above Floor

mm

3300

3900

4300

4800

5200

5700

Motor Power

kW

5.5+5.5+3=14

7.5+7.5+3=18

15+7.5+4=26.5

15+15+4=34

22+22+7.5=51.5

30+30+7.5=67.5

Weight

kg

7200

12500

17500

38000

62000

8500