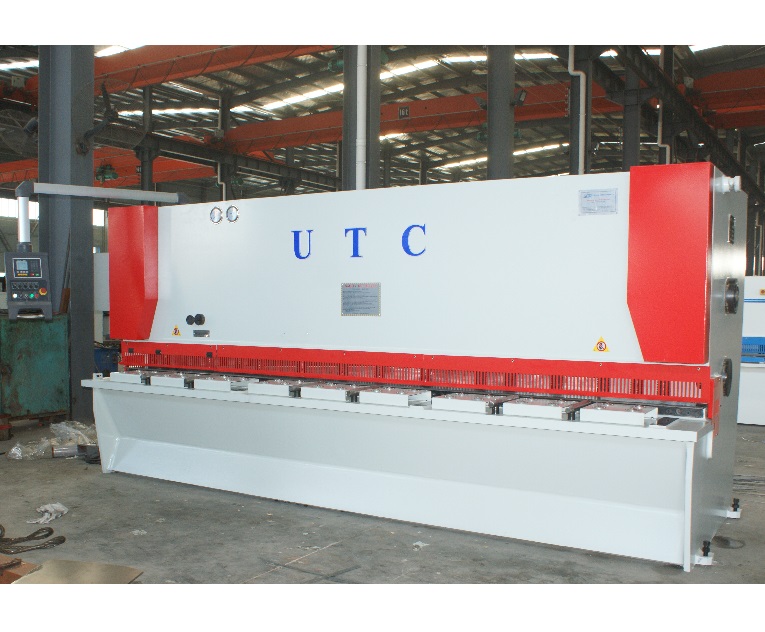 Introduction:
The frame is entirely welded with steel plates, vibration to eliminate stress. With high strength and good rigidity.

Integrated advanced hydraulic system, with good reliability.

The machine adopts three-point roll guider. And it cancel the guide clearance and improve the shearing quality. With mechanical backgauge, hand wheel and numerical display.

There is hand wheel for adjusting the blade clearance. Operation is much quickly, accurate and convenient.

Rectangular blades with four cutting edges and it can extend the working life. Adjustable shearing angel to reduce the deformation of the sheet.

Upper blade carrier adopts batter construction, easy for unload the cutting sheets and improve the cutting accuracy. Also, the machine is with function of shearing in section and lighting device. Optional: Rear material holding device.
Technical Parameter:
| | | | | | | | |
| --- | --- | --- | --- | --- | --- | --- | --- |
| Model | Plate | Shear Angle | SPM | Back Gauge Adjustment | Throat Depth | Main Motor Power | Outline Size (L×W×H) |
| | mm | ° | Min- | mm | mm | Kw | mm (L*W*H) |
| QC11Y-4x2500 | 4x2500 | 0.5~1.5 | 25-45 | 600 | 100 | 5.5 | 3000*2000*1850 |
| QC11Y-6x2500 | 6x2500 | 0.5~1.5 | 20-45 | 750 | 125 | 7.5 | 3030*2075*1920 |
| QC11Y-6x3200 | 6x3200 | 0.5~1.5 | 16-45 | 750 | 125 | 7.5 | 3730*2075*1970 |
| QC11Y-6x4000 | 6x4000 | 0.5~1.5 | 14-45 | 750 | 125 | 7.5 | 4530*2075*2080 |
| QC11Y-6x5000 | 6x5000 | 0.5~1.5 | 11-40 | 750 | 125 | 7.5 | 5530*2075*2210 |
| QC11Y-6x6000 | 6x6000 | 0.5~1.5 | 9-36 | 750 | 125 | 7.5 | 6530*2075*2520 |
| QC11Y-7x7000 | 7x7000 | 0.5~1.5 | 7-28 | 750 | 125 | 7.5 | 7530*2075*2830 |
| QC11Y-8x2500 | 8x2500 | 0.5~1.5 | 20-45 | 750 | 125 | 7.5 | 3040*2075*1920 |
| QC11Y-8x3200 | 8x3200 | 0.5~1.5 | 16-45 | 750 | 125 | 7.5 | 3740*2075*1920 |
| QC11Y-12x2500 | 12x2500 | 0.5~2 | 12-35 | 1000 | 125,300 | 15 | 3110*2575*2210 |
| QC11Y-12x3200 | 12x3200 | 0.5~2 | 8-35 | 1000 | 125,300 | 15 | 3810*2575*2420 |
| QC11Y-12x4000 | 12x4000 | 0.5~2 | 7-35 | 1000 | 125,300 | 15 | 4610*2575*2530 |
| QC11Y-16x2500 | 16x2500 | 0.5~2.5 | 16-40 | 1000 | 125,300 | 22 | 3130*2655*2200 |
| QC11Y-16x4000 | 16x4000 | 0.5~2.5 | 12-40 | 1000 | 125,300 | 22 | 4630*2655*2570 |
| QC11Y-20x2500 | 20x2500 | 0.5~2.5 | 16-40 | 1000 | 125,300 | 30 | 3160*2855*2300 |
| QC11Y-20x4000 | 20x4000 | 0.5~2.5 | 12-40 | 1000 | 125,300 | 30 | 4660*2855*2720 |